9/19/2022 -
WINCHESTER, N.H. – Both Todd Patnode and Tyler Leary celebrated Modified championships Saturday at Monadnock Speedway, with Patnode's 100-lap Whitcomb
Latest News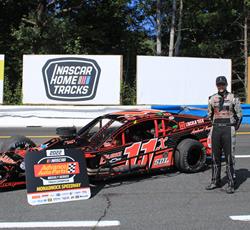 9/19/2022
WINCHESTER, N.H. – Both Todd Patnode and Tyler Leary celebrated Modified championships Saturday at Monadnock Speedway, with Patnode's 100-lap Whitcomb 5 Race Series champion, and Leary, seventh on the day, securing the 2022 Monadnock Speedway track...
more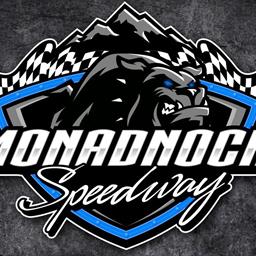 10/17/2021 - Monadnock Speedway
Winchester, NH
Sunday Mudbog Mudslinger
Main Gate opens at 8:00 AM with Mudbog starting at 11:00 AM.
Registration to compete is from 8:00 AM - 10:00 AM.
Classes include Opens, Outlaws, Pros, Modifieds, 8 Cylinder & 4/6 Cylinder.
Plus Trick or Treating for kids in costume with the Mudbog Teams ( 9:30 AM - 11:00 AM)!
General Admission: Adults $10, Ages 11-18 $5 and Ages 10 & under receive FREE Admission. (Cash Only). Tickets available on the day of the event.
Beer Garden & Concessions. (Cash Only)
Spectators are encouraged to bring your own lounge chairs. No alcohol or glass is permitted to be brought in.
Open Class

8 entries

Outlaw Class

9 entries

Pro Class

12 entries

Modified Class

11 entries

8 Cylinder

14 entries

4-6 Cylinder

17 entries
Full Event Information on MyRacePass
Open Class
Finish
Start
#
Competitor
Hometown
+/-
1
4
23
Dale Small Huntington, MA
Huntington, MA
3
2
8
38
Troy Samoisette Kingston, NH
Kingston, NH
6
3
2
5
Steven Bartlett Kingston, NH
Kingston, NH
-1
4
5
26
Bill Rideout Augusta, ME
Augusta, ME
1
5
6
34
Thomas Small Westfield, MA
Westfield, MA
1
6
1
4
Daniel Huber Nottingham, NH
Nottingham, NH
-5
7
3
15
Stephen Chase Deerfield, NH
Deerfield, NH
-4
8
7
37
Greg Noonan Woodlyn , PA
Woodlyn , PA
-1
Outlaw Class
Finish
Start
#
Competitor
Hometown
+/-
1
6
23
Troy Samoisette Kingston, NH
Kingston, NH
5
2
1
6
Troy Brown S. Berwick, ME
S. Berwick, ME
-1
3
8
35
Ryan Kelley E. Bridgewater, MA
E. Bridgewater, MA
5
4
9
36
Bill Rideout Augusta, ME
Augusta, ME
5
5
5
20
Jason Haber Springfield, VT
Springfield, VT
-
6
4
15
Greg Noonan Woodlyn , PA
Woodlyn , PA
-2
7
2
7
John Burnett Wendell, MA
Wendell, MA
-5
8
3
10
Dan Huber Nottingham, NH
Nottingham, NH
-5
9
7
34
Stephen Chase Deerfield, NH
Deerfield, NH
-2
Pro Class
Finish
Start
#
Competitor
Hometown
+/-
1
1
4
Troy Brown S. Berwick, ME
S. Berwick, ME
-
2
11
35
Troy Samoisette Kingston, NH
Kingston, NH
9
3
12
36
Jason Haber Springfield, VT
Springfield, VT
9
4
2
5
Bill Rideout Augusta, ME
Augusta, ME
-2
5
6
19
John Burnett Wendell, MA
Wendell, MA
1
6
4
9
Jeff Springer Baladwinville, MA
Baladwinville, MA
-2
7
5
18
John Baptistella Ascutney, VT
Ascutney, VT
-2
8
9
30
Nathan Fiset Ashuelot, NH
Ashuelot, NH
1
9
7
20
Scott Ramsey Lewiston, ME
Lewiston, ME
-2
10
8
29
Kevin Doughty Farmingdale, ME
Farmingdale, ME
-2
11
3
7
Stephen Chase Deerfield, NH
Deerfield, NH
-8
12
10
32
Dan Huber Nottingham, NH
Nottingham, NH
-2
Modified Class
Finish
Start
#
Competitor
Hometown
+/-
1
2
6
Jeff Springer Baladwinville, MA
Baladwinville, MA
1
2
10
34
John Baptistella Ascutney, VT
Ascutney, VT
8
3
8
28
Lauren Black Winchester, NH
Winchester, NH
5
4
4
12
Tim Bidwell Troy, NH
Troy, NH
-
5
6
20
Tim Fiset Jr Ashuelot, NH
Ashuelot, NH
1
6
3
7
Scott Ramsey Lewiston, ME
Lewiston, ME
-3
7
7
24
Seth Wiggin Hinsdale, NH
Hinsdale, NH
-
8
5
17
Kevin Doughty Farmingdale, ME
Farmingdale, ME
-3
9
11
38
Jimmy Lyons Turner, ME
Turner, ME
2
10
1
1
Kerry Hall Winchester, NH
Winchester, NH
-9
11
9
32
Barry Hall Winchester, NH
Winchester, NH
-2
8 Cylinder
Finish
Start
#
Competitor
Hometown
+/-
1
1
1
Matt O'Brien Ware, MA
Ware, MA
-
2
8
22
Pat Hall Swanzey, NH
Swanzey, NH
6
3
7
17
Russell Henry Templeton, MA
Templeton, MA
4
4
4
6
Steven Shuey Vernon, VT
Vernon, VT
-
5
9
26
Craig Lehman Claremont, NH
Claremont, NH
4
6
14
39
Jack Freeman Highgate, VT
Highgate, VT
8
7
5
9
Jason Freeman Highgate, VT
Highgate, VT
-2
8
10
27
Josh Whalen Westminster, VT
Westminster, VT
2
9
3
3
Steven Freckleton Guilford, VT
Guilford, VT
-6
10
6
15
Kevin Shepherd Colrain, MA
Colrain, MA
-4
11
11
34
Karine Swan Wendell, MA
Wendell, MA
-
12
12
36
Adam Whitcomb W. Swanzey, NH
W. Swanzey, NH
-
13
2
2
Shane Deming Greenfield, MA
Greenfield, MA
-11
14
13
38
Tim Allis Turners Falls, MA
Turners Falls, MA
-1
4-6 Cylinder
Finish
Start
#
Competitor
Hometown
+/-
1
11
25
Matt O'Brien Ware, MA
Ware, MA
10
2
10
22
David Fraczek Springfield, VT
Springfield, VT
8
3
15
35
Kevin Carey Sr Keene, NH
Keene, NH
12
4
1
2
Scott Wallace Springfield, VT
Springfield, VT
-3
5
3
6
Sonny Carey Keene, NH
Keene, NH
-2
6
14
31
Josh Whalen Westminster, VT
Westminster, VT
8
7
16
39
Michael Willard Richmond, NH
Richmond, NH
9
8
6
11
Eric Paquette Brattleboro, VT
Brattleboro, VT
-2
9
17
40
Laura Lockerby Springfield, VT
Springfield, VT
8
10
13
29
Tim Allis Turners Falls, MA
Turners Falls, MA
3
11
4
8
Olivia Kennedy Turners Falls, MA
Turners Falls, MA
-7
12
12
26
Shane Deming Greenfield, MA
Greenfield, MA
-
13
8
17
Mike (Whisky Wagon) Willard Richmond, NH
Richmond, NH
-5
14
7
13
Casey Cole Winchester, NH
Winchester, NH
-7
15
9
19
Justin Racine Swanzey, NH
Swanzey, NH
-6
16
2
4
Penni Carey Keene, NH
Keene, NH
-14
17
5
9
Jorelan Lavalley Newfane, VT
Newfane, VT
-12
Driver Registration