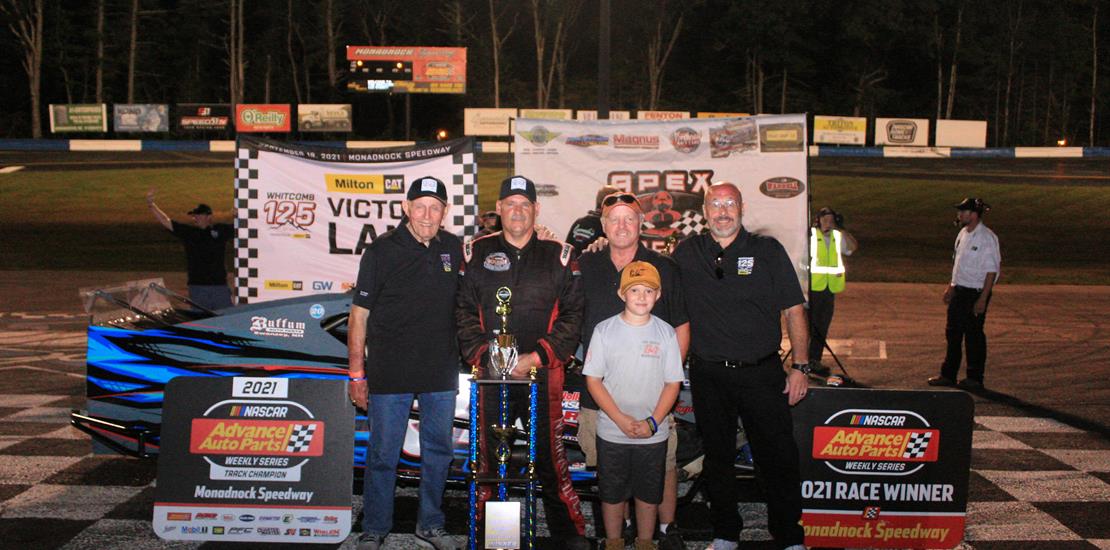 9/20/2021 -
Monadnock Speedway September 18 event story By Gary Dutton WINCHESTER, N.H. – Todd Patnode raced into the record book Saturday at Monadnock Speedway
Latest News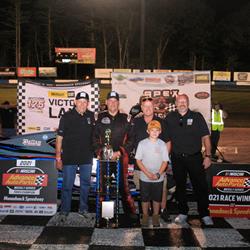 9/20/2021
Monadnock Speedway September 18 event story By Gary Dutton WINCHESTER, N.H. – Todd Patnode raced into the record book Saturday at Monadnock Speedway, blasting to victory in the nightcap 50-lapper of the Whitcomb 125 presented by Milton Cat NHSTRA Modified main event to...
more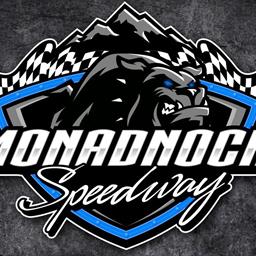 9/11/2021 - Monadnock Speedway
Winchester, NH
Gomarlo's Fan Appreciation Day / Open Track party
Divisions: NHSTRA Modifieds, Street Stocks, Mini Stocks, Pure Stocks,Young Guns, Granite State Mini Cups & STAR Antique Racers
Pits Open at 2:00 PM - Admission $30 / $35
General Admission (Opens at 3:30 PM): $10 Adults & Seniors (65+), Ages 11-18 $5, Ages 10 & Under Free General Admission. Advanced Ticket Sales available until 11:30 AM on Saturday or tickets are available at the ticket gate with no limit. (Credit Cards accepted).
ALL EMS, FF AND POLICE RECEIVE FREE GENERAL ADMISSION WITH VALID ID!
Open Track Party from 5:00 PM - 6:00 PM! Meet the Stars and See Their Cars Trackside!
$2 Hamburgers or Cheeseburgers & $1 Hot Dogs courtesy of Gomarlo's!
Racing starts following the track party.
Free Camping available Upper Parking Lot for Spectators & Lower Parking Lot for MudBog Competitors.
Beer Garden & Concessions (Cash Only). ATM onsite.
Small Coolers allowed (no alcohol or glass). Face masks not required but recommended if not vaccinated.
NHSTRA Modifieds

15 entries

Street Stocks

14 entries

Mini Stocks

18 entries

Pure Stocks

18 entries

Young Guns

5 entries
Full Event Information on MyRacePass
NHSTRA Modifieds
Finish
Start
#
Competitor
Hometown
+/-
1
6
76X
Trevor Bleau Troy, NH
Troy, NH
5
2
7
24
Todd Patnode Swanzey, NH
Swanzey, NH
5
3
5
1
Cory Plummer Keene, NH
Keene, NH
2
4
4
11
Matthew Kimball Bennington, NH
Bennington, NH
-
5
1
7
Scott MacMichael Newbury, NH
Newbury, NH
-4
6
3
44
Brian Chapin Palmer, MA
Palmer, MA
-3
7
10
29NH
Aaron Fellows Croydon, NH
Croydon, NH
3
8
9
99
Kimberley Rivet ANTRIM, NH
ANTRIM, NH
1
9
2
11X
Tyler Leary Hatfield, MA
Hatfield, MA
-7
10
8
03VT
Solomon Brow Vernon, VT
Vernon, VT
-2
11
12
60
Andrew Major Brookfield, MA
Brookfield, MA
1
12
11
81
Dave Salzarulo Monson, MA
Monson, MA
-1
13
13
43
Kevin Russell Marlborough, NH
Marlborough, NH
-
14
15
84
Eric LeClair Easthampton, MA
Easthampton, MA
1
15
14
18S
Ed Dachenhausen Danbury, CT
Danbury, CT
-1
Finish
Start
#
Competitor
Hometown
Time
1
15
24
Todd Patnode Swanzey, NH
Swanzey, NH
2
13
76X
Trevor Bleau Troy, NH
Troy, NH
3
14
1
Cory Plummer Keene, NH
Keene, NH
4
2
11
Matthew Kimball Bennington, NH
Bennington, NH
5
10
44
Brian Chapin Palmer, MA
Palmer, MA
6
12
11X
Tyler Leary Hatfield, MA
Hatfield, MA
7
7
7
Scott MacMichael Newbury, NH
Newbury, NH
8
6
03VT
Solomon Brow Vernon, VT
Vernon, VT
9
11
99
Kimberley Rivet ANTRIM, NH
ANTRIM, NH
10
9
29NH
Aaron Fellows Croydon, NH
Croydon, NH
11
8
81
Dave Salzarulo Monson, MA
Monson, MA
12
4
60
Andrew Major Brookfield, MA
Brookfield, MA
13
3
43
Kevin Russell Marlborough, NH
Marlborough, NH
14
5
18S
Ed Dachenhausen Danbury, CT
Danbury, CT
15
1
84
Eric LeClair Easthampton, MA
Easthampton, MA
Street Stocks
Finish
Start
#
Competitor
Hometown
+/-
1
4
83
Timothy Wenzel Holyoke, MA
Holyoke, MA
3
2
5
35
Christopher Lindquist White River Junction, VT
White River Junction, VT
3
3
2
28
Rupert Thompson Alstead, NH
Alstead, NH
-1
4
6
03
Nathan Wenzel Granby, MA
Granby, MA
2
5
7
88
Hillary Renaud Vernon, VT
Vernon, VT
2
6
3
2
Christopher Buffone Belchertown, MA
Belchertown, MA
-3
7
8
29
Edward Brehio III Gardner, MA
Gardner, MA
1
8
1
24MA
Scott Zilinski Erving, MA
Erving, MA
-7
9
14
99
Matt Robinson Milford, NH
Milford, NH
5
10
11
4NH
Keith Johnson Winchedon, MA
Winchedon, MA
1
11
9
00X
Robert Bertourney Winchedon, MA
Winchedon, MA
-2
12
12
15
Nathaniel Nunez Westfield, MA
Westfield, MA
-
13
10
7
Leighton Lutz Richmond, NH
Richmond, NH
-3
14
13
28SS
Samuel Silva Alstead, NH
Alstead, NH
-1
Finish
Start
#
Competitor
Hometown
+/-
1
3
28
Rupert Thompson Alstead, NH
Alstead, NH
2
2
5
03
Nathan Wenzel Granby, MA
Granby, MA
3
3
6
29
Edward Brehio III Gardner, MA
Gardner, MA
3
4
4
83
Timothy Wenzel Holyoke, MA
Holyoke, MA
-
5
1
00X
Robert Bertourney Winchedon, MA
Winchedon, MA
-4
6
2
7
Leighton Lutz Richmond, NH
Richmond, NH
-4
7
7
28SS
Samuel Silva Alstead, NH
Alstead, NH
-
Finish
Start
#
Competitor
Hometown
+/-
1
1
24MA
Scott Zilinski Erving, MA
Erving, MA
-
2
3
2
Christopher Buffone Belchertown, MA
Belchertown, MA
1
3
5
88
Hillary Renaud Vernon, VT
Vernon, VT
2
4
4
35
Christopher Lindquist White River Junction, VT
White River Junction, VT
-
5
2
4NH
Keith Johnson Winchedon, MA
Winchedon, MA
-3
6
7
99
Matt Robinson Milford, NH
Milford, NH
1
7
6
15
Nathaniel Nunez Westfield, MA
Westfield, MA
-1
Mini Stocks
Finish
Start
#
Competitor
Hometown
+/-
1
10
83G
Haydon Grenier Claremont, NH
Claremont, NH
9
2
6
69Z
Louie Maher Baldwinville, MA
Baldwinville, MA
4
3
8
52
Tim LeBlanc Hinsdale, NH
Hinsdale, NH
5
4
4
29
Jake Puchalski Sunderland, MA
Sunderland, MA
-
5
13
7
Jeff Asselin Granby, MA
Granby, MA
8
6
16
15
Raymond King Drewsville, NH
Drewsville, NH
10
7
2
36
Jeff Heath Chicopee, MA
Chicopee, MA
-5
8
11
18L
Matthew Lambert Ashuelot, NH
Ashuelot, NH
3
9
15
23
Joshua Hubbard Hinsdale, NH
Hinsdale, NH
6
10
12
57X
Patrick Houle Vernon, VT
Vernon, VT
2
11
14
28
Craig Chaffee Keene, NH
Keene, NH
3
12
7
46NH
Gordon Farnum Fitzwilliam, NH
Fitzwilliam, NH
-5
13
17
471
Eric Pomasko Peterborough, NH
Peterborough, NH
4
14
3
76
Kevin McKnight Orange, MA
Orange, MA
-11
15
5
48
Kevin Clayton Winchendon, MA
Winchendon, MA
-10
16
9
11
Richard Whipple Fitzwilliam, NH
Fitzwilliam, NH
-7
DNS
18
16
Robert Kirker Keene, NH
Keene, NH
-
DQ
1
33NH
William Chaffee Keene, NH
Keene, NH
-
Finish
Start
#
Competitor
Hometown
+/-
1
1
33NH
William Chaffee Keene, NH
Keene, NH
-
2
9
83G
Haydon Grenier Claremont, NH
Claremont, NH
7
3
5
69Z
Louie Maher Baldwinville, MA
Baldwinville, MA
2
4
3
76
Kevin McKnight Orange, MA
Orange, MA
-1
5
4
29
Jake Puchalski Sunderland, MA
Sunderland, MA
-1
6
8
23
Joshua Hubbard Hinsdale, NH
Hinsdale, NH
2
7
2
57X
Patrick Houle Vernon, VT
Vernon, VT
-5
8
7
28
Craig Chaffee Keene, NH
Keene, NH
-1
DNS
6
16
Robert Kirker Keene, NH
Keene, NH
-
Finish
Start
#
Competitor
Hometown
+/-
1
4
48
Kevin Clayton Winchendon, MA
Winchendon, MA
3
2
6
52
Tim LeBlanc Hinsdale, NH
Hinsdale, NH
4
3
5
46NH
Gordon Farnum Fitzwilliam, NH
Fitzwilliam, NH
2
4
2
36
Jeff Heath Chicopee, MA
Chicopee, MA
-2
5
7
11
Richard Whipple Fitzwilliam, NH
Fitzwilliam, NH
2
6
9
471
Eric Pomasko Peterborough, NH
Peterborough, NH
3
7
1
18L
Matthew Lambert Ashuelot, NH
Ashuelot, NH
-6
8
8
15
Raymond King Drewsville, NH
Drewsville, NH
-
9
3
7
Jeff Asselin Granby, MA
Granby, MA
-6
Pure Stocks
Finish
Start
#
Competitor
Hometown
+/-
1
6
53
Nicholas Houle Granby, MA
Granby, MA
5
2
5
45
JD Stockwell Turners Falls, MA
Turners Falls, MA
3
3
7
671
Kyle Templeton Claremont, NH
Claremont, NH
4
4
14
16
Chris Davis Winchester, NH
Winchester, NH
10
5
3
71
Jason LeRay Swanzey, NH
Swanzey, NH
-2
6
9
16Z
Dylan Zullo Claremont, NH
Claremont, NH
3
7
8
01
James Zellman Greenfield, MA
Greenfield, MA
1
8
15
21
Matthew Croteau Winchester, NH
Winchester, NH
7
9
17
24X
Edward Petruskevicius Rutland, MA
Rutland, MA
8
10
11
24JR
Brianna Patnode Swanzey, NH
Swanzey, NH
1
11
16
6NH
Ryan Lawliss Troy, NH
Troy, NH
5
12
12
60
Reagan Buffum Surry, NH
Surry, NH
-
13
10
62
Dick Houle Sebring, FL
Sebring, FL
-3
14
13
7M
Zachary Garrow Richmond, NH
Richmond, NH
-1
15
2
88
Kyle Robinson-Newell Swanzey, NH
Swanzey, NH
-13
16
4
6
Cory Lofland Granby, MA
Granby, MA
-12
17
1
29
Chris Higbee Winchedon, MA
Winchedon, MA
-16
DNS
18
34
Damien Houle Belchertown, MA
Belchertown, MA
-
Finish
Start
#
Competitor
Hometown
+/-
1
2
88
Kyle Robinson-Newell Swanzey, NH
Swanzey, NH
1
2
4
6
Cory Lofland Granby, MA
Granby, MA
2
3
6
53
Nicholas Houle Granby, MA
Granby, MA
3
4
7
671
Kyle Templeton Claremont, NH
Claremont, NH
3
5
9
16Z
Dylan Zullo Claremont, NH
Claremont, NH
4
6
5
16
Chris Davis Winchester, NH
Winchester, NH
-1
7
1
24JR
Brianna Patnode Swanzey, NH
Swanzey, NH
-6
8
8
24X
Edward Petruskevicius Rutland, MA
Rutland, MA
-
9
3
7M
Zachary Garrow Richmond, NH
Richmond, NH
-6
Finish
Start
#
Competitor
Hometown
+/-
1
3
71
Jason LeRay Swanzey, NH
Swanzey, NH
2
2
4
45
JD Stockwell Turners Falls, MA
Turners Falls, MA
2
3
9
62
Dick Houle Sebring, FL
Sebring, FL
6
4
7
01
James Zellman Greenfield, MA
Greenfield, MA
3
5
1
29
Chris Higbee Winchedon, MA
Winchedon, MA
-4
6
5
21
Matthew Croteau Winchester, NH
Winchester, NH
-1
7
2
60
Reagan Buffum Surry, NH
Surry, NH
-5
8
6
6NH
Ryan Lawliss Troy, NH
Troy, NH
-2
DNS
8
34
Damien Houle Belchertown, MA
Belchertown, MA
-
Young Guns
Finish
Start
#
Competitor
Hometown
+/-
1
4
57
Teagan Edson Ashburnham, MA
Ashburnham, MA
3
2
1
7Z
Zachary Zilinski Gill, MA
Gill, MA
-1
3
2
80
Aaliyah Tacy Keene, NH
Keene, NH
-1
4
5
76
Edward Gomarlo Swanzey, NH
Swanzey, NH
1
5
3
56
Dominick Stafford Millers Falls, MA
Millers Falls, MA
-2
Finish
Start
#
Competitor
Hometown
+/-
1
1
7Z
Zachary Zilinski Gill, MA
Gill, MA
-
2
2
80
Aaliyah Tacy Keene, NH
Keene, NH
-
3
4
57
Teagan Edson Ashburnham, MA
Ashburnham, MA
1
4
5
76
Edward Gomarlo Swanzey, NH
Swanzey, NH
1
5
3
56
Dominick Stafford Millers Falls, MA
Millers Falls, MA
-2
Driver Registration