9/19/2022 -
WINCHESTER, N.H. – Both Todd Patnode and Tyler Leary celebrated Modified championships Saturday at Monadnock Speedway, with Patnode's 100-lap Whitcomb
Latest News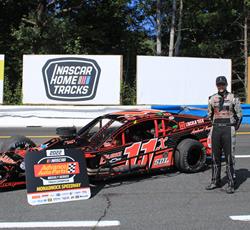 9/19/2022
WINCHESTER, N.H. – Both Todd Patnode and Tyler Leary celebrated Modified championships Saturday at Monadnock Speedway, with Patnode's 100-lap Whitcomb 5 Race Series champion, and Leary, seventh on the day, securing the 2022 Monadnock Speedway track...
more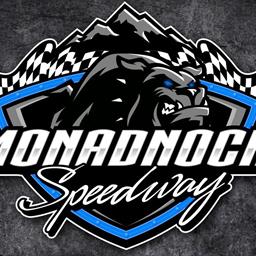 8/14/2021 - Monadnock Speedway
Winchester, NH
Tri Track Modified 100
Divisions: Tri Track Modified Series (100 Laps), NHSTRA Modifieds, Late Model Sportsman, Mini Stocks, Pure Stocks & Young Guns
Pits Open at 12:00 PM for Tri Track Modified Teams & 1:00 PM for Monadnock Speedway Divisions. Admission $40
General Admission (Opens at 2:30 PM): $30 Adults, $25 Seniors (65+), Ages 11-18 $15, Ages 10 & Under $5. General Seating. Tickets available online under "Buy Tickets Tab" or at the ticket gate the night of the event. (Credit Cards accepted).
Race Time 5:30 PM
Camping available Friday 11:00 AM - Sunday 5:00 PM. Upper Parking Lot Camping Resrved camping $50. Free camping in lower parking (next to Mudbog Pit). To reserve upper lot parking go to https://market.myracepass.com/store/tickets/?i=1258146&store=29639
Beer Garden & Concessions (Cash Only). ATM onsite.
Small Coolers allowed (no alcohol or glass). Face masks not required but recommended if not vaccinated.
NHSTRA Modifieds

10 entries

Late Model Sportsman

16 entries

Mini Stocks

14 entries

Pure Stocks

12 entries

Young Guns

4 entries

Tri Track Modifieds
Full Event Information on MyRacePass
NHSTRA Modifieds
Finish
Start
#
Competitor
Hometown
+/-
1
4
11
Matthew Kimball Bennington, NH
Bennington, NH
3
2
5
24
Todd Patnode Swanzey, NH
Swanzey, NH
3
3
2
11X
Tyler Leary Hatfield, MA
Hatfield, MA
-1
4
6
05
Cameron Houle Lancaster, MA
Lancaster, MA
2
5
1
1
Cory Plummer Keene, NH
Keene, NH
-4
6
10
6
Ben Byrne Dearfield, MA
Dearfield, MA
4
7
7
99
Kimberley Rivet ANTRIM, NH
ANTRIM, NH
-
8
8
5C
Cole Littlewood Orange, MA
Orange, MA
-
9
9
84
Eric LeClair Easthampton, MA
Easthampton, MA
-
10
3
7
Scott MacMichael Newbury, NH
Newbury, NH
-7
Finish
Start
#
Competitor
Hometown
Time
1
8
1
Cory Plummer Keene, NH
Keene, NH
2
4
11X
Tyler Leary Hatfield, MA
Hatfield, MA
3
10
7
Scott MacMichael Newbury, NH
Newbury, NH
4
3
11
Matthew Kimball Bennington, NH
Bennington, NH
5
2
24
Todd Patnode Swanzey, NH
Swanzey, NH
6
6
05
Cameron Houle Lancaster, MA
Lancaster, MA
7
7
99
Kimberley Rivet ANTRIM, NH
ANTRIM, NH
8
9
5C
Cole Littlewood Orange, MA
Orange, MA
9
5
84
Eric LeClair Easthampton, MA
Easthampton, MA
10
1
6
Ben Byrne Dearfield, MA
Dearfield, MA
All transfer
Late Model Sportsman
Finish
Start
#
Competitor
Hometown
+/-
1
7
29NH
Aaron Fellows Croydon, NH
Croydon, NH
6
2
5
12
Austin Brehio Concord, NH
Concord, NH
3
3
6
77
Camdyn Curtis Baltimore, VT
Baltimore, VT
3
4
8
7NH
Joseph Bates Alstead, NH
Alstead, NH
4
5
3
37
Justin Littlewood Orange, MA
Orange, MA
-2
6
4
73
Cole Littlewood Orange, MA
Orange, MA
-2
7
1
12B
Glen Brehio Hopkinton, NH
Hopkinton, NH
-6
8
2
15MA
John Meany Gardner, MA
Gardner, MA
-6
9
9
11NH
George Frost Lancaster, MA
Lancaster, MA
-
10
10
09
Daniel Comeau Monson, MA
Monson, MA
-
11
13
96
Nancy Muni - Ruot Harwinton, CT
Harwinton, CT
2
12
14
6
Caleb Cashman Troy, NH
Troy, NH
2
DNS
15
70
Rocky Smith Hinsdale, NH
Hinsdale, NH
-
DQ
12
77B
Dylan Bodreau Claremont, NH
Claremont, NH
-
DQ
11
74W
Matthew Winter Springfield, VT
Springfield, VT
-
Finish
Start
#
Competitor
Hometown
+/-
1
1
12B
Glen Brehio Hopkinton, NH
Hopkinton, NH
-
2
6
29NH
Aaron Fellows Croydon, NH
Croydon, NH
4
3
3
37
Justin Littlewood Orange, MA
Orange, MA
-
4
7
7NH
Joseph Bates Alstead, NH
Alstead, NH
3
5
4
12
Austin Brehio Concord, NH
Concord, NH
-1
6
8
77B
Dylan Bodreau Claremont, NH
Claremont, NH
2
7
2
09
Daniel Comeau Monson, MA
Monson, MA
-5
Finish
Start
#
Competitor
Hometown
+/-
1
4
77
Camdyn Curtis Baltimore, VT
Baltimore, VT
3
2
2
15MA
John Meany Gardner, MA
Gardner, MA
-
3
7
11NH
George Frost Lancaster, MA
Lancaster, MA
4
4
3
73
Cole Littlewood Orange, MA
Orange, MA
-1
5
1
96
Nancy Muni - Ruot Harwinton, CT
Harwinton, CT
-4
6
6
74W
Matthew Winter Springfield, VT
Springfield, VT
-
7
5
6
Caleb Cashman Troy, NH
Troy, NH
-2
Mini Stocks
Finish
Start
#
Competitor
Hometown
+/-
1
5
46NH
Gordon Farnum Fitzwilliam, NH
Fitzwilliam, NH
4
2
6
69Z
Louie Maher Baldwinville, MA
Baldwinville, MA
4
3
4
29
Jake Puchalski Sunderland, MA
Sunderland, MA
1
4
3
48
Kevin Clayton Winchendon, MA
Winchendon, MA
-1
5
8
7
Jeff Asselin Granby, MA
Granby, MA
3
6
10
76
Kevin McKnight Orange, MA
Orange, MA
4
7
2
18L
Matthew Lambert Ashuelot, NH
Ashuelot, NH
-5
8
14
43VT
Dana Shepard Putney, VT
Putney, VT
6
9
9
36
Jeff Heath Chicopee, MA
Chicopee, MA
-
10
11
57
Patrick Houle Vernon, VT
Vernon, VT
1
11
7
33NH
William Chaffee Keene, NH
Keene, NH
-4
12
13
28
Craig Chaffee Keene, NH
Keene, NH
1
13
1
98
Michael Douglas Northfield , MA
Northfield , MA
-12
14
12
16
Robert Kirker Keene, NH
Keene, NH
-2
Finish
Start
#
Competitor
Hometown
+/-
1
5
69Z
Louie Maher Baldwinville, MA
Baldwinville, MA
4
2
1
98
Michael Douglas Northfield , MA
Northfield , MA
-1
3
3
29
Jake Puchalski Sunderland, MA
Sunderland, MA
-
4
7
7
Jeff Asselin Granby, MA
Granby, MA
3
5
4
76
Kevin McKnight Orange, MA
Orange, MA
-1
6
2
36
Jeff Heath Chicopee, MA
Chicopee, MA
-4
7
6
16
Robert Kirker Keene, NH
Keene, NH
-1
Finish
Start
#
Competitor
Hometown
+/-
1
3
46NH
Gordon Farnum Fitzwilliam, NH
Fitzwilliam, NH
2
2
2
48
Kevin Clayton Winchendon, MA
Winchendon, MA
-
3
1
18L
Matthew Lambert Ashuelot, NH
Ashuelot, NH
-2
4
5
33NH
William Chaffee Keene, NH
Keene, NH
1
5
7
43VT
Dana Shepard Putney, VT
Putney, VT
2
6
4
57
Patrick Houle Vernon, VT
Vernon, VT
-2
7
6
28
Craig Chaffee Keene, NH
Keene, NH
-1
Pure Stocks
Finish
Start
#
Competitor
Hometown
+/-
1
7
53
Nicholas Houle Granby, MA
Granby, MA
6
2
5
16
Chris Davis Winchester, NH
Winchester, NH
3
3
1
6
Cory Lofland Granby, MA
Granby, MA
-2
4
6
45
JD Stockwell Turners Falls, MA
Turners Falls, MA
2
5
2
88
Kyle Robinson-Newell Swanzey, NH
Swanzey, NH
-3
6
8
05
Justin Cousino Claremont, NH
Claremont, NH
2
7
9
24JR
Brianna Patnode Swanzey, NH
Swanzey, NH
2
8
11
43S
Nicholas Shepard Lebanon, NH
Lebanon, NH
3
9
10
29
Chris Higbee Winchedon, MA
Winchedon, MA
1
10
12
72
Carter Chamberlin Keene, NH
Keene, NH
2
11
4
71
Jason LeRay Swanzey, NH
Swanzey, NH
-7
DQ
3
01
James Zellman Greenfield, MA
Greenfield, MA
-
Finish
Start
#
Competitor
Hometown
+/-
1
4
16
Chris Davis Winchester, NH
Winchester, NH
3
2
2
6
Cory Lofland Granby, MA
Granby, MA
-
3
5
53
Nicholas Houle Granby, MA
Granby, MA
2
4
3
01
James Zellman Greenfield, MA
Greenfield, MA
-1
5
1
24JR
Brianna Patnode Swanzey, NH
Swanzey, NH
-4
6
6
72
Carter Chamberlin Keene, NH
Keene, NH
-
Finish
Start
#
Competitor
Hometown
+/-
1
2
88
Kyle Robinson-Newell Swanzey, NH
Swanzey, NH
1
2
4
45
JD Stockwell Turners Falls, MA
Turners Falls, MA
2
3
3
71
Jason LeRay Swanzey, NH
Swanzey, NH
-
4
6
05
Justin Cousino Claremont, NH
Claremont, NH
2
5
1
29
Chris Higbee Winchedon, MA
Winchedon, MA
-4
6
5
43S
Nicholas Shepard Lebanon, NH
Lebanon, NH
-1
Driver Registration